Be careful! It's a wording trick, and as a business owner, you shouldn't fall for it. You need to understand the meaning of the marketing terms so no one can deceive you into buying you air with words. If he is going to say it, he has to deliver it. But what is the plot twist of inbound marketing?
The definition of inbound marketing:
They are the steps you apply in the marketing strategy; to convert strangers to promoters through using the online channels. Shortly it is to applicate the 4 steps of the inbound flow: Attract, Convert, Close, and Delight.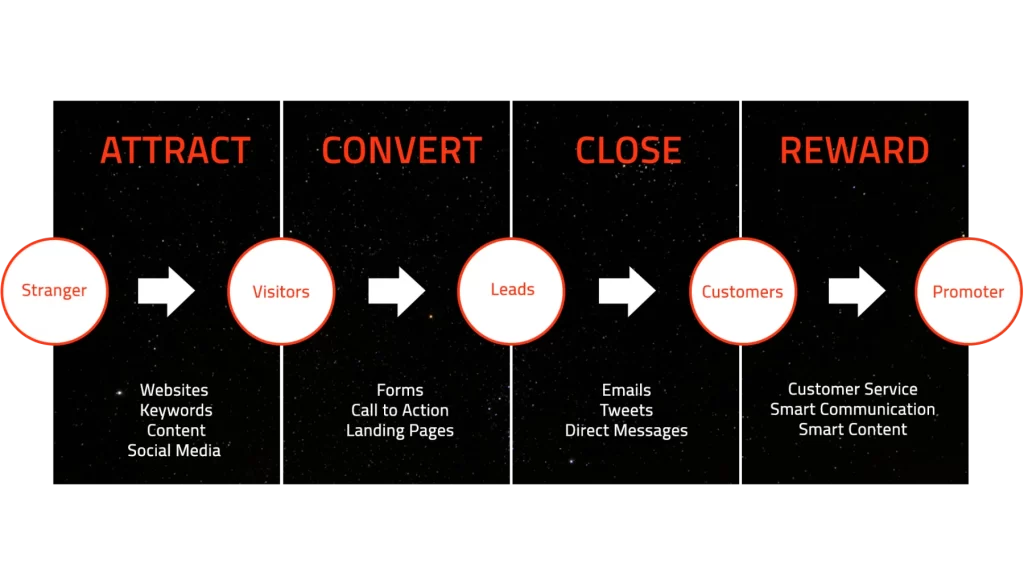 The inbound marketing technique:
It's the technique of applying 4 specific procedures to transform a stranger who doesn't have a clew of who you are into a promoter and an ambassador for your Brand:
1- Attract:
The first step relies entirely upon how you present your content on different platforms and how much it appeals to the broad audience you are addressing. In this step, you also can define your sheep in the herd; you get to know your specific targeted audience who will show a tremendous interest in the following action.
2-Convert:
The phase where you invest in your audience to change them from having a slight interest in your content to users or customers who will acquire your service or product, and in this phase comes the importance of having a one-of-a-kind sales team.
3-Close:
Social listening, patience, understanding, and solution selling are the main points of your marketing sales team's power, and they must own it in their characteristics to close deals. This step is responsible for increasing the number of served clients, but the next step is to increase satisfied clients.
4-Delight:
The follow-up makes a regular customer into a promoter who recommends you to his circle of acquaintances as a first perfect choice. That step raises flags and points fingers at the problems in the service or product to develop it in the future. It also gives enormous marketing recommendations and ideas of focus.
Inbound marketing customer funnel:
Your customer begins his journey as a stranger who hasn't a clue that you exist, and you target him with different appeals of content, keywords of interest, and targeted ads in the Attract phase.
Then your customer shows interest through engaging with your viral content, and he becomes a visitor. Here you must attach a landing page or a clear CTA (call to action) in the convert phase so he can be an actual lead.
Some clients will require extra effort compared to their peers to convince them of the importance of your product or service and make the necessary significant change in their life. You can achieve the close phase through cold calls and email campaigns; now, the stranger is your CUSTOMER!
Lots of corporates miss the importance of the delight phase and its effect on the customer funnel. Applying the delight phase through surveys, social monitoring, and cold calls gives your customer the feeling of being unique. He automatically becomes a promoter and sells for you with zero effort from your team.
How to apply the inbound marketing strategy?:
This point is also achieved in 4 steps:
they begin with studying your brand/service, knowing your competitors from the back of your heart, researching the market needs for such business, and starting to create a strategy built upon where you can find your actual audience.
Secondly, where and how are you going to spread your content? Of course, crafting content is an essential point but knowing where and when you should distribute this creative content is a crucial point as you always look to be seen by the public. Hence, it would be best if you targeted where they are, and the hours they spend using different social platforms so you can stand in front of their eyes with your head held high.
Thirdly, it's more of advice rather than a step you have to take. "Choose your moderation team carefully; the moderation team has to own the skills of a professional salesman." as closing deals isn't an easy task, you need the previously mentioned characteristics so you can do the closing part.
the importance of the "Delight" phase isn't negotiable but let me reveal a final secret "Facebook doesn't equal social media platforms." there are lots of platforms where you can meet up with your targeted audience like "Instagram, LinkedIn, Google,….etc." 
Choose more than one platform where your potential client can exist and create content there. Create content that can convert them to another page of yours or a direct landing page, set a meeting, send a message, or give you a call directly. 
And that is how you can apply inbound marketing. The plot twist of inbound marketing relies upon many who know the expression but very few who know how to use it accurately, want to know more or wish to apply inbound marketing for your own company; contact us.